Key word: lithium polymer battery pack, industrial control tablet battery

With the performance of commercial machines getting better and better, many industrial sites have begun to use lower-cost commercial machines, and the market for commercial machines has also undergone tremendous changes. People are beginning to prefer a more human touch tablet. Therefore, in the industrial field, the tablet computer with touch function will be the future trend. The industrial touch tablet computer is also a kind of industrial control computer.
SUJOR Lithium polymer battery pack 486095 4000mAh 3.8V 1S2P can reach 8000mAh capacity. The customized battery pack is specially designed for industrial control tablet.
1.Main features:
Nominal Voltage: 3.8V
Capacity:8000mAh
Dimension:5*98*120mm
Configuration: 1S2P 486095 4000mAh
Internal resistance:≤150mΩ
Weight: 450g
Standard charging current: 1600mA
Fast charging current: 4000mA
Standard discharging current:4000mA
Charging cut-off voltage:4.35V
Discharging cut-off voltage:3.0V
Cycle time:≥500 times
Charging temperature:0~45℃
Discharging temperature:-20~60℃
Storage temperature:-20~35 ℃
2. Main advantages:
● High voltage 3.8V with high energy density
● Lighter weight and easy to use
● Long cycle life as 500times.Capacity retention is more than 70% after 500times.
● Warranty life as long as 1year.
● PCM protect the battery pack from over-charge, over-discharge, over-current.
3. Circuit drawing
4. Battery structure diagram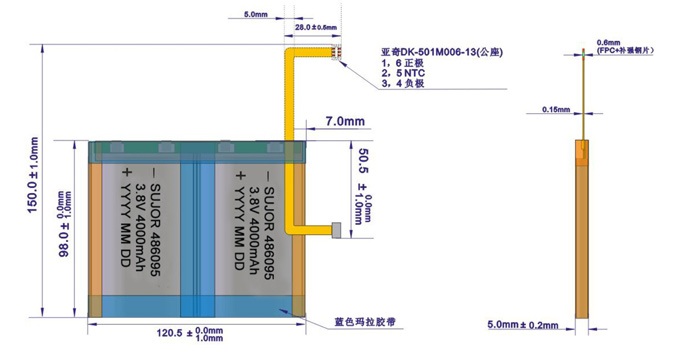 5. Picture of real product