Battery specification: 18650-1S1P-2800mAh-3.7V
Nominal voltage: 3.7V
Nominal capacity: 2800mAh
Cut-off Charging voltage: 4.2V
Charging current: ≤2800mA
Standard discharging current: 2800mA
Instant discharging current: 5600mA
Cut-off discharge voltage: 3.0V
Internal resistance: ≤65mΩ
Charging temperature: 0~45℃
Discharging temperature: -20~60 ℃
Storage temperature: -20℃~35℃
Application field: lighting, flashlight, security products, power tools, power station, electric bike, electric motorcycle, robots, medical and military devices, power bank, ect.
Main advantages:
● Stable quality and high capacity assured
● The battery has as long as 500cyle life. The capacity retention is about 70% after 500cycles.
● Warranty as long as 12months.
Quality control: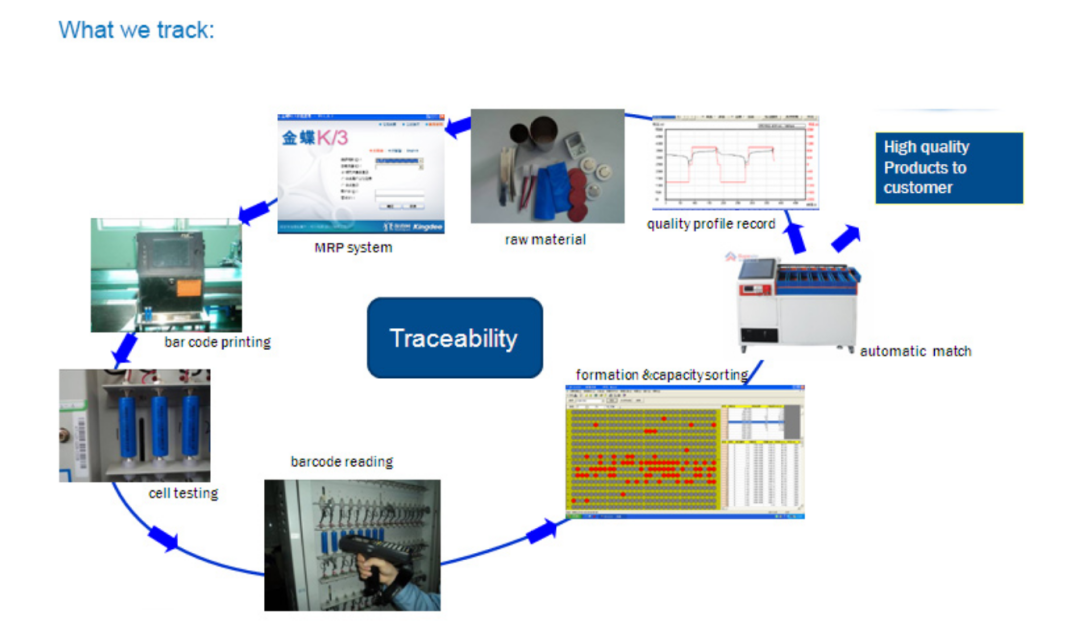 MRP system has been used for our quality control.
FAQ
Q1: How to prolong battery life?
A: Put the battery in cool, dry, good ventilation place, avoid direct sunshine. For long time storage, the environment temperature should be below 30 centidegree. Do not use the battery or charge it under extremely high or low temperature. Charge battery with correct charger, try to avoid over-charge, use the charger with good monitoring device and best to buy charger and battery kit.If the electrical equipment won't be used for a long time, it is better to take out the battery or switch off it.
Q2: When can you deliver products?
A: We can deliver in 10-12 working days if there is stock. For customized battery, it may takes longer.
Q3: Could you offer free sample to test?
A: In general, we offer it for new customer after they pay the sample fee, and we will refund the sample cost for them when massive order is confirmed..
Q4: How about the shipping?
A: We provide international Express door-to-door, Airline and Ocean transportation; you can choose the shipping way that you prefer
Q5: How to store the li-ion battery?
A: Better to keep the battery at room temperature and lower at 65% humidity(cool and dry). It will help the battery store longer time.